About us
Catholic Schools Center of Excellence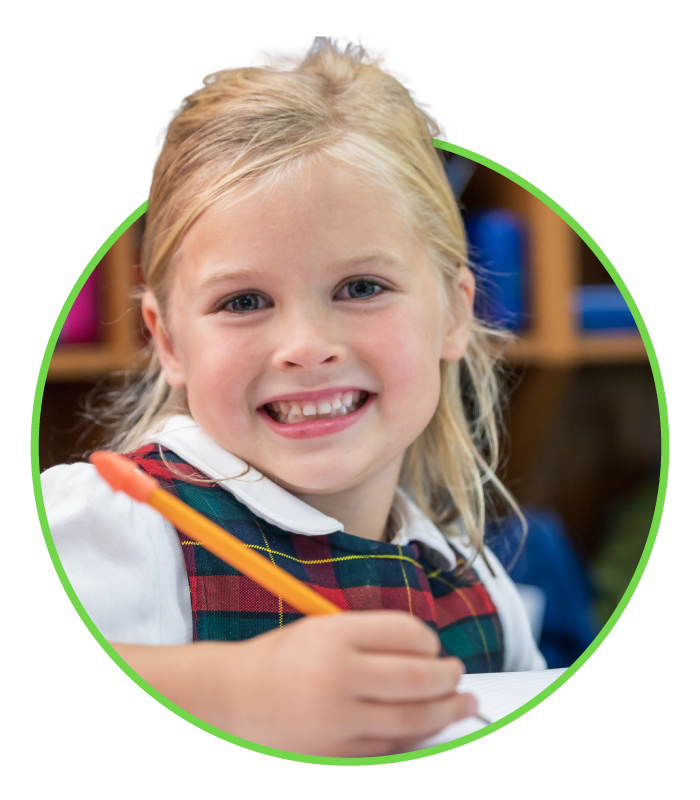 Since 2015
The Catholic Schools Center of Excellence (CSCOE) was established through the vision and generosity of the Richard M. Schulze Family Foundation and by a group of dedicated people passionate about Catholic education.
The organization's model is unlike any other, transforming education through innovative and entrepreneurial approaches that produce sustainable models for schools who serve preschool-8th grade Catholic students.
Priorities & Approach
At CSCOE, we:
Work directly with principals
Know the industry – inside and out
And partner with best-in-class vendors and experts in the field.
Our unique approach delivers promising opportunities for schools to enhance academic excellence and grow their enrollment.
As a result, the lives of thousands of Catholic school students are being transformed. Below are just a few of the CSCOE programs that are resulting in unmatched student impact and success.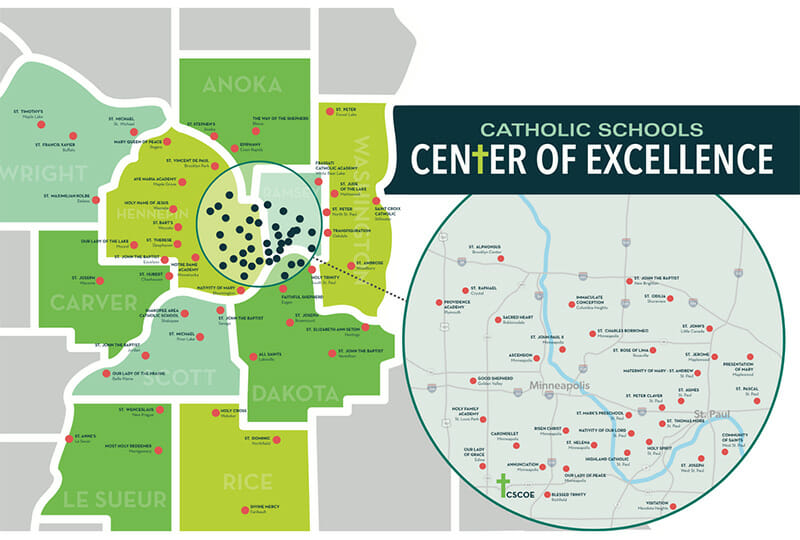 In partnership with Groves Academy, Believe and Read provides innovative, best-in-class literacy coaching for teachers and transformational instruction that boosts the reading achievement of every kindergarten to grade three student.
In partnership with Twin Cities-based Phoenix School Counseling, Peace of Mind provides resources and education to Catholic schools to help their preschool- eighth grade students, families, teachers and leaders address and support the social and emotional needs of all school community members through a Catholic lens.
Parents are choosing Faithful Beginnings because our preschools feel like a home away from home. Our teachers care for each child like their own. We welcome your whole family to our community. We are committed to excellence in a faith-based environment. Our early childhood programs are thoughtfully crafted to meet the specific needs of each child at his or her development stage. Our young scholars graduate prepared to succeed in school.
Serving students whose learning needs fall outside the median often requires extra resources. To address this, the Exceptional Learners initiative was developed. From a group of experts who can work one-on-one with schools, to resourcing teachers with classroom tools, to teacher training and professional development – we are walking with schools in their mission to serve all children.
Middle School Network of Excellence
The needs and growth opportunities at the middle school level are being thoughtfully addressed through careful study and reinvention of existing educational models. One of the focal points of this effort is to customize learning to the specific and unique needs of each middle school student.
In partnership with the University of St. Thomas School of Engineering, the STEM Lending Library provides access to STEM equipment, resources and instruction that is built upon the strong foundation of Catholic tradition, faith and service.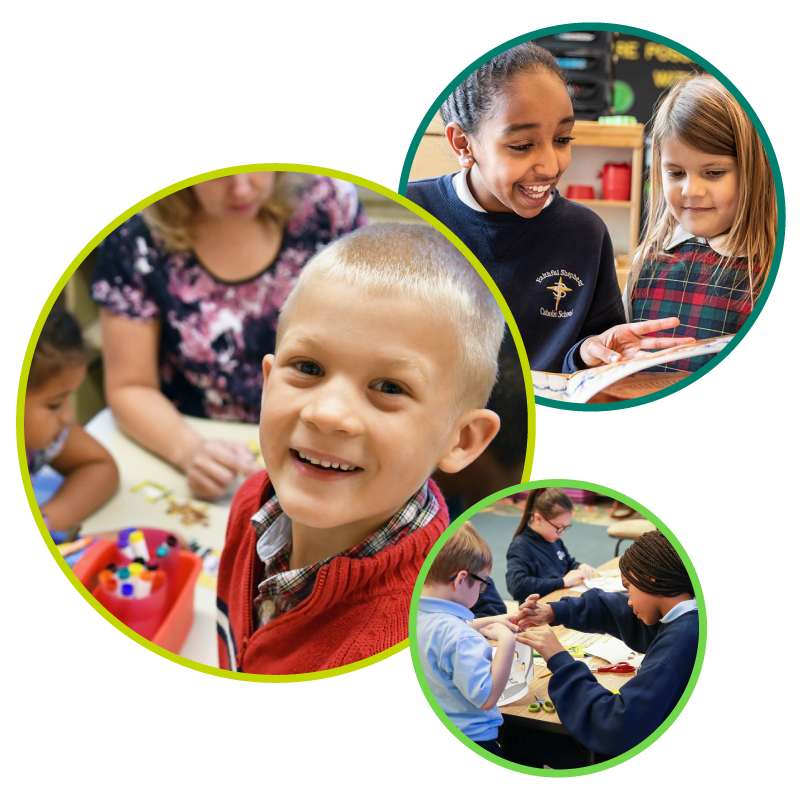 We're here to help
It's our mission to assist you in discovering and pursuing exceptional preschool-8th grade education opportunities for your children in the Twin Cities and greater metro area.
Common questions
You've got questions, and we've got answers!
What is the average class size?
The average class size is 16 students. This allows for more one-on-one time and greater class cohesion.
How long is the school day? Do Catholic schools have before- and after-school care?
The average length of the school day is seven hours, with before- and after-school care offered at most schools.
Is transportation available to Catholic schools?
Yes. Most of our Catholic schools coordinate with their local school district to provide busing within the district boundaries.
When is the best time to visit a Catholic school? When are tours available?
You can call a school to schedule a tour at any time. Schools host open house events throughout the year, but will schedule personal tours upon request.
When can my student begin at a Catholic school?
While the most common time for a student to start at a Catholic school is at the beginning of the school year, a student can also transfer mid-year.
Why should I consider transferring to a Catholic school?
Proven academic success – With a 99% graduation rate, Catholic school students score significantly higher than national averages on standardized testing.
Forming the whole child – We provide educational experiences that build character and virtues. We partner with our families to nurture ongoing moral development and the value of serving others.
Critical thinkers and principled leaders – We combine opportunities for leadership with high standards of personal responsibility and a commitment to service to prepare students to be ethical leaders.
Welcoming community – Catholic schools are committed to the collaboration between home and school to provide a community of faith that supports your whole family.
Are there extra-curriculars and sports?
Yes. Our schools offer a variety of athletic and performing arts programs, in addition to service groups, clubs and camps.
Will a Catholic school provide a safe and secure environment for my children?
All Catholic schools follow the rigorous Archdiocese policy, which requires background checks, VIRTUS safe environment training and codes of conduct for all adults who interact with minors. To learn more about how we work to create a safe environment for students, visit: safe-environment.archspm.org.
What Catholic schools parents are saying
"Through the initiative, my son is now a proficient reader. He even writes his own stories! To me, having a child who wants to read and write in his spare time is the best success we could have gotten."
"Our biggest 'aha' moment is when we would read stories before bed, and our daughter would stop us because she wanted to read the words she knows. It was amazing to see her progress from the beginning of the school year until now."
Want to Talk with an Advisor?
Let's get in touch